Ever had that eureka moment?
You've found the ideal lead on LinkedIn Sales Navigator, a prospect that ticks all the boxes – an executive with the right position in a thriving company that aligns seamlessly with your ICP.
Your anticipation is building and all that's left is to connect and initiate that golden conversation.
There's just one little problem…
The golden key to personalized outreach, their email, is nowhere to be found!
Where's the email?
The excitement swiftly dissolves into frustration
If this scenario resonates with you, take a sigh of relief.
You are in the right place!
In this article, we'll show you exactly how to get emails from LinkedIn Sales Navigator in 2023.
Summary
We'll cover:
– How does LinkedIn Sales Navigator work
– What challenges exist for finding emails through LinkedIn Sales Navigator
– Where to find emails in LinkedIn Sales Navigator?
– How to get verified email addresses using ZeroIn?
Let's get started!
How Does LinkedIn Sales Navigator work?
LinkedIn Sales Navigator is a marvel of the modern B2B networking world.
As a premium version of LinkedIn, it's specifically designed to help sales teams, professionals, and individuals streamline their lead discovery process.
But what makes it tick?
How does it work its magic?
To start, LinkedIn Sales Navigator employs an advanced algorithm that pulls from LinkedIn's vast database of over 930 million professionals.
This algorithm allows you to tap into a deep well of data about companies, industry trends, and the people who steer the wheels of the corporate world.
Imagine having a crowd of professionals in a room and being able to pinpoint those who align with your niche perfectly.
Sales Navigator does precisely that – only digitally.
By allowing you to zero in on the right individuals, it turns LinkedIn's extensive network into a targeted goldmine of prospects.
Not only does it assist you in finding prospects, but Sales Navigator also helps in tracking and nurturing these leads.
Its sophisticated algorithms provide lead recommendations tailored to your needs.
Meanwhile, the platform keeps you updated on any crucial changes or updates with your saved leads and accounts, allowing you to interact with prospects at just the right time.
Add to this the ability to send InMail directly to prospects, irrespective of whether you're connected or not, and you've got a sales tool that packs a punch.
But there's a catch.
While LinkedIn Sales Navigator makes it easier to find and manage prospects, it falls short in providing direct access to their email addresses.
The good news?
There's a workaround, which we're going to explore later in this guide.
What Challenges Exist for finding Emails through LinkedIn Sales Navigator?
If getting emails from LinkedIn Sales Navigator was a piece of cake, we wouldn't have this conversation. But here we are, and it's essential to identify the hurdles that make this quest less than smooth.
Challenge 1: Manual Extraction is Time-Intensive and Tedious
Picture the scene: you're faced with a list populated with hundreds of potential leads.
Each one calls for a visit to their profile, a meticulous search for contact details, and the same process again and again.
You can almost hear the clock ticking away precious minutes, hours even, while you navigate this labyrinth and do nothing else but search.
And when you finally found the lead you want and need, Sales Navigator only offers you a prospect's name and their associated company but beyond that, the onus is on you to secure their email addresses.
It's a process that might work fine for a handful of leads but turns into a marathon of monotony and exhaustion as the numbers climb.
Without an efficient third-party email extraction tool, you're left scaling a mountain with no peak in sight.
Challenge 2: Accessibility and Privacy Hurdles
Prospecting via LinkedIn Sales Navigator has its pitfalls, and chief among them is the iron curtain of privacy.
Many users wisely choose to guard their contact information from public view.
While this is excellent for individual privacy, it adds another layer of complexity for professionals seeking to connect with potential leads.
What's more, Sales Navigator throws a curveball your way with restrictions on email access.
Without a first-degree connection, email addresses are off-limits.
And if a profile has been set to private? The access door shuts firmly.
A significant portion of users only lists their personal email addresses on their profiles. For second and third-degree connections, this makes prospecting more like trying to find a needle in a haystack.
To add to the conundrum, LinkedIn Sales Navigator's compatibility with most CRM systems is limited, making it hard to automate your outreach efforts.
Exporting email addresses directly from LinkedIn?
That's off the table too.
Challenge 3: The Minefield of Unverified Emails
Let's say you've managed to gather some email addresses.
Congratulations, but it's not time to celebrate yet.
Some email addresses may turn out to be as elusive as a mirage, leading to a dead end or, worse, a bounce back.
Launching a mass outreach initiative comes with the risk of stepping into the spammer's territory if too many emails find their way to non-existent addresses. And sadly, LinkedIn Sales Navigator doesn't offer any verification service for email addresses.
But, even amid these challenges, there's a silver lining.
Keep reading, and you'll discover how to overcome these obstacles and find those coveted email addresses.
Let's forge ahead!
Where to Find Emails in LinkedIn Sales Navigator?
LinkedIn Sales Navigator does not exactly present emails on a silver platter. But that doesn't mean you're entirely in the dark.
There are some nooks and crannies within the platform where you can sometimes find this valuable contact information.
Let's examine these areas more closely.
1. Contact Information
The first port of call is the Contact Info section of a prospect's profile.
Navigate to this area by clicking the 'Contact Info' button under the prospect's profile picture and name.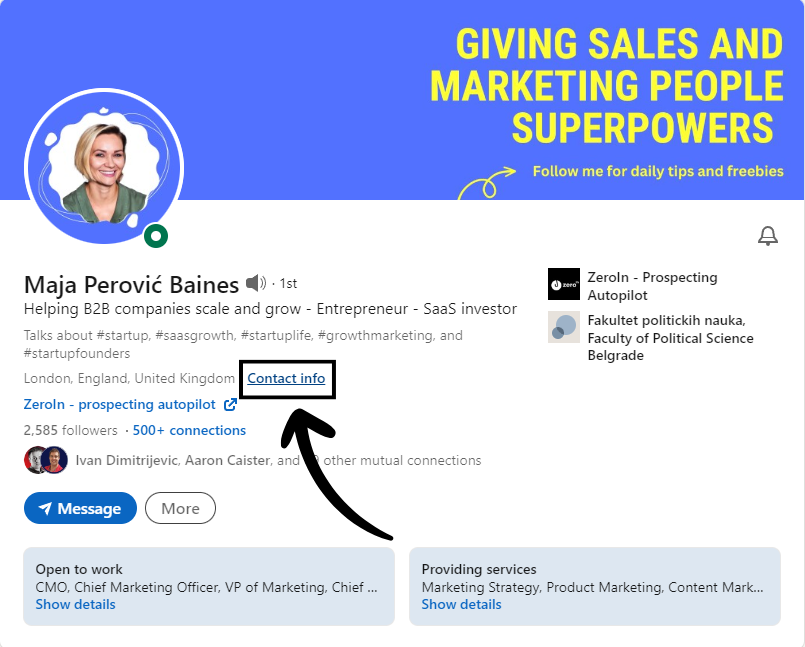 This section may include their email address, especially if they've chosen to make this information public.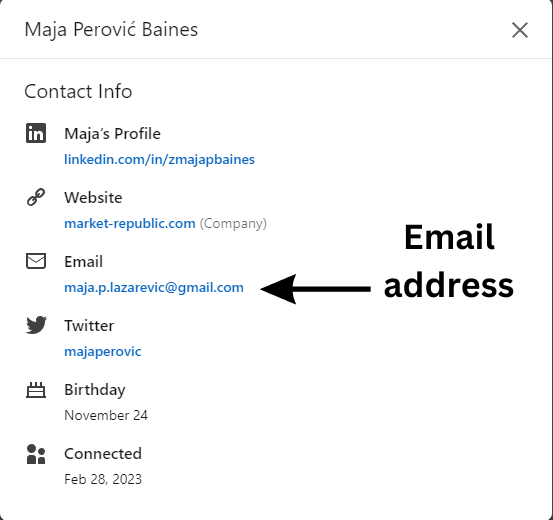 However, remember that this method isn't foolproof.
Some users may choose to hide their email addresses or only make them visible to direct connections.
It's worth a shot, but there are other avenues to explore if this one hits a roadblock.
2. About Section
Another potential goldmine for email addresses is the 'About' section.
Here, users provide a brief overview of their professional background, accomplishments, and sometimes – bingo – their contact details.
Scroll down a user's profile until you find the 'About' section just below their activity feed.
Some LinkedIn users, especially those in sales, marketing, or freelance roles, may include their email addresses here in a bid to facilitate business connections.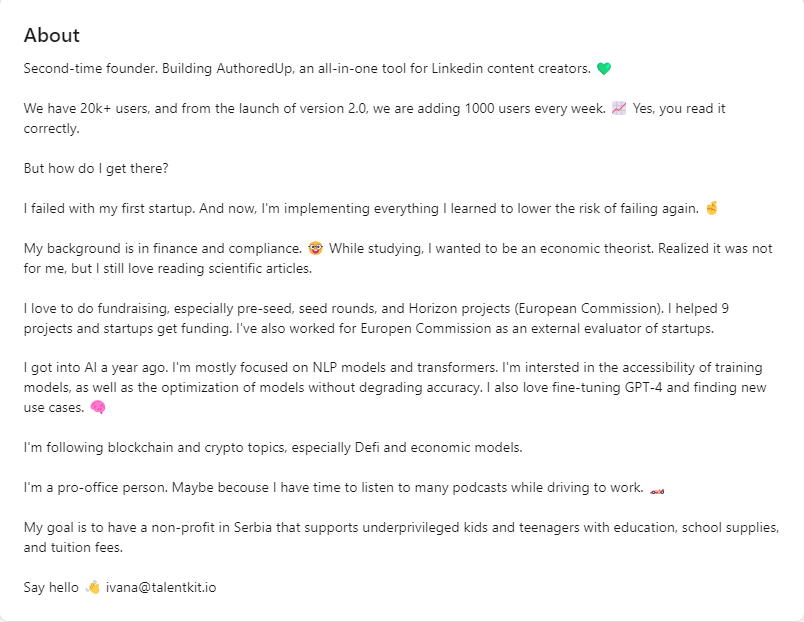 Source: Ivana Todorovic
This tactic isn't as common, but it's worth checking out nonetheless.
3. Banner
Lastly, keep an eagle eye out for the banner image that sits atop a user's profile.
Creative professionals, freelancers, or those actively seeking business opportunities may strategically include their email addresses within the banner design.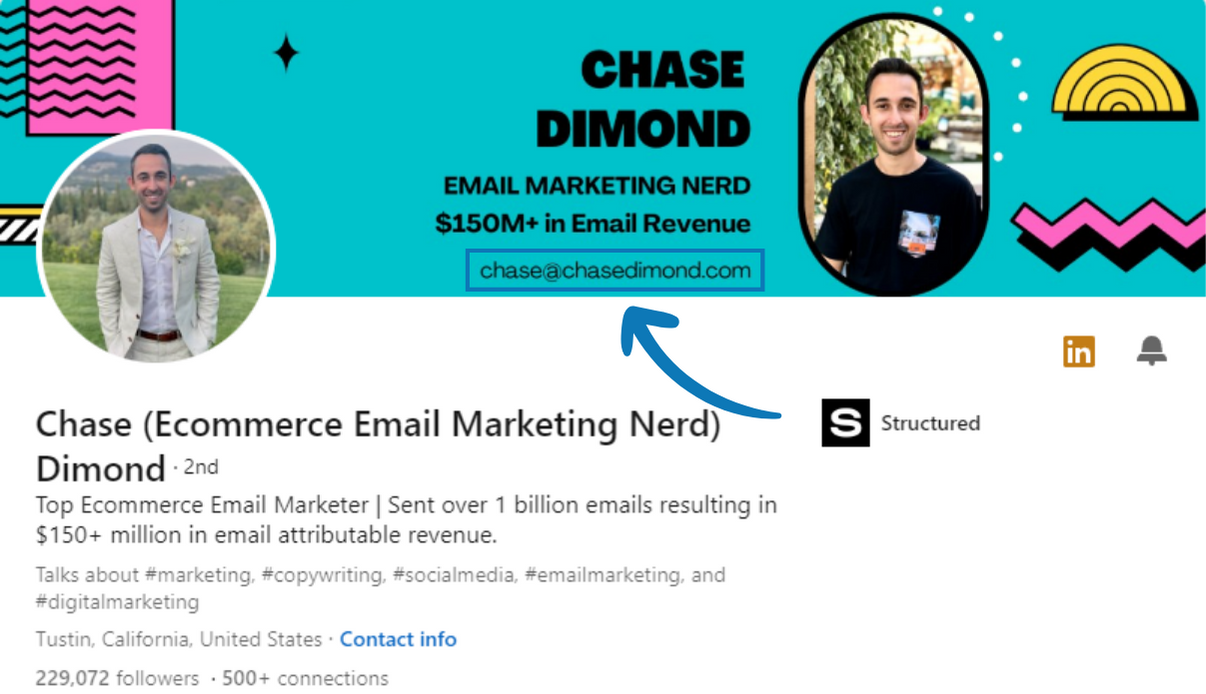 Source: Chase Dimond
While it's not the norm, it's another avenue that could potentially yield the email address you're looking for.
These approaches can sometimes bear fruit, but they can also lead to dead ends, depending on the user's privacy settings and the information they've chosen to share.
But don't lose heart.
If these methods don't pan out, our next section explores an alternative that can change the game in your favor.
Stay with us!
How to Get Verified Email Adresses using ZeroIn?
Let's talk about ZeroIn, the game-changing tool that sweeps aside all the difficulties of finding verified emails from LinkedIn Sales Navigator.
It is a workaround that saves you the frustration of shooting in the dark, offers scalability, and ensures that your outreach is well-targeted and effective.
Here's a step-by-step guide on how to make the magic happen:
Step 1: Create an Account
ZeroIn's journey starts with setting up an account.
If you're a newbie to the platform, head over to ZeroIn's site, provide the required details, and voila, your account is ready.
For those already in the know, simply login to your existing ZeroIn account.
Step 2: Install the Extension
Once you've got an account, it's time to add ZeroIn to your arsenal.
Install the ZeroIn extension on your preferred browser.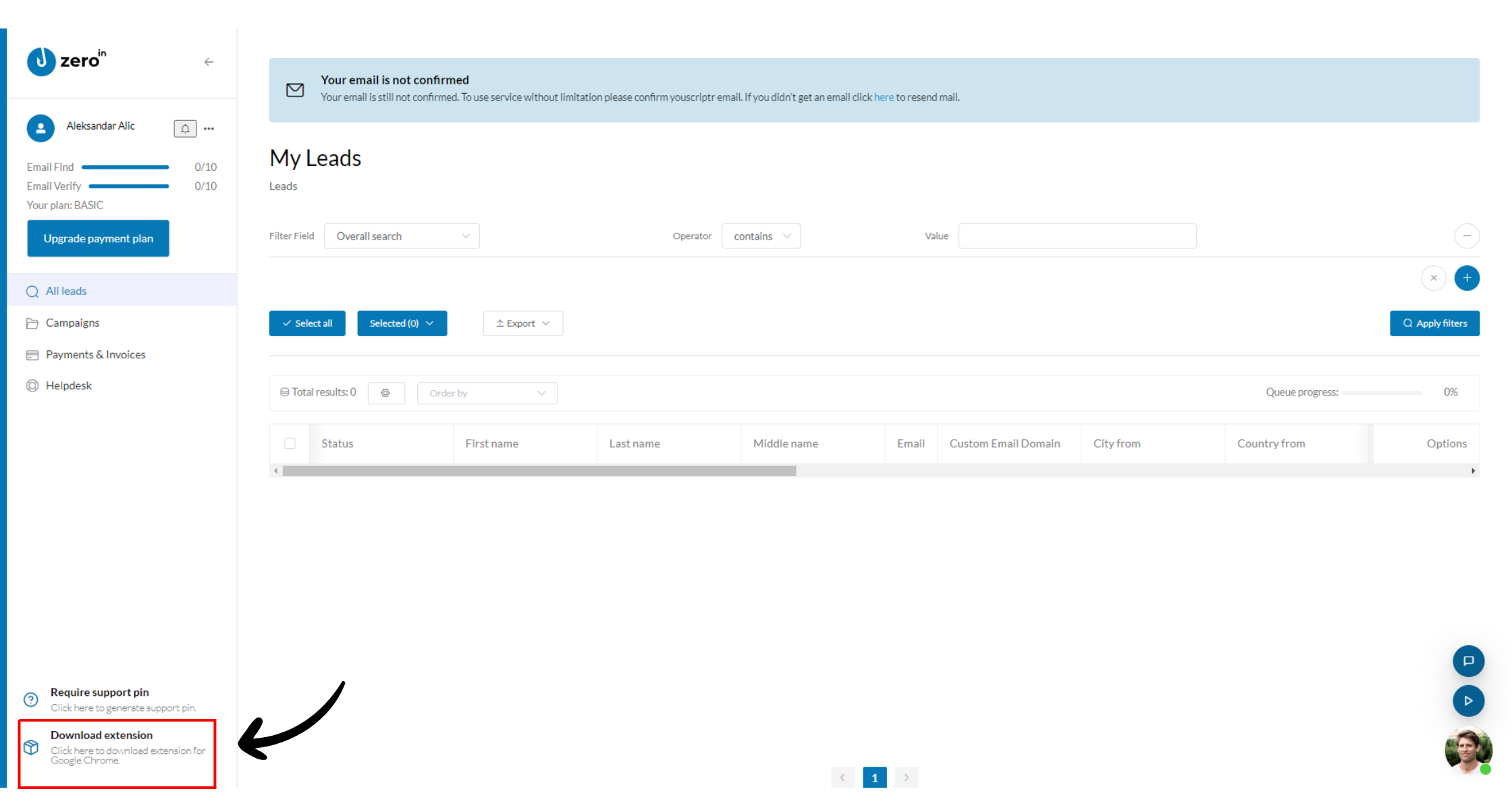 This extension acts as a bridge, connecting LinkedIn Sales Navigator with the ZeroIn platform.
Step 3: Log into Sales Navigator
Your ZeroIn extension is now raring to go.
Head over to LinkedIn Sales Navigator and sign in.
Make sure you're also logged into the ZeroIn extension at this point.
Step 4: Choose Leads
Now comes the exciting part – finding your leads.
Use the search function on LinkedIn Sales Navigator, deploying the right keywords.
Adjust the filters to mirror your ideal prospects.
If you already have a lead list, click on the 'Leads' tab and select the list that aligns with your interests.

Then hit 'View in Search'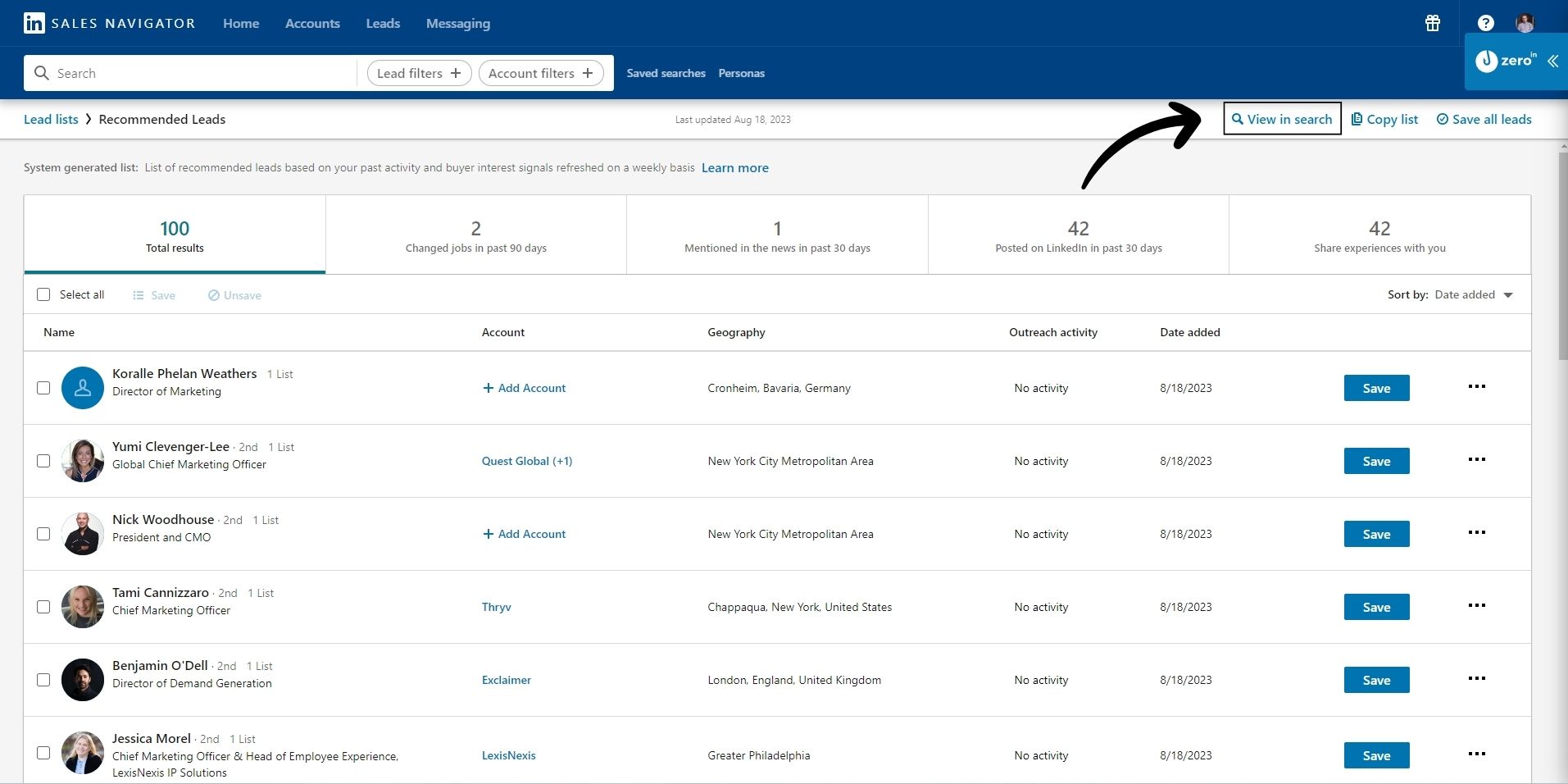 Step 5: Activate the ZeroIn Plugin
With your leads or search results on the screen, it's time to activate the ZeroIn plugin. Click on the ZeroIn extension to open it.
A panel will appear allowing you to create a new campaign or select an existing one.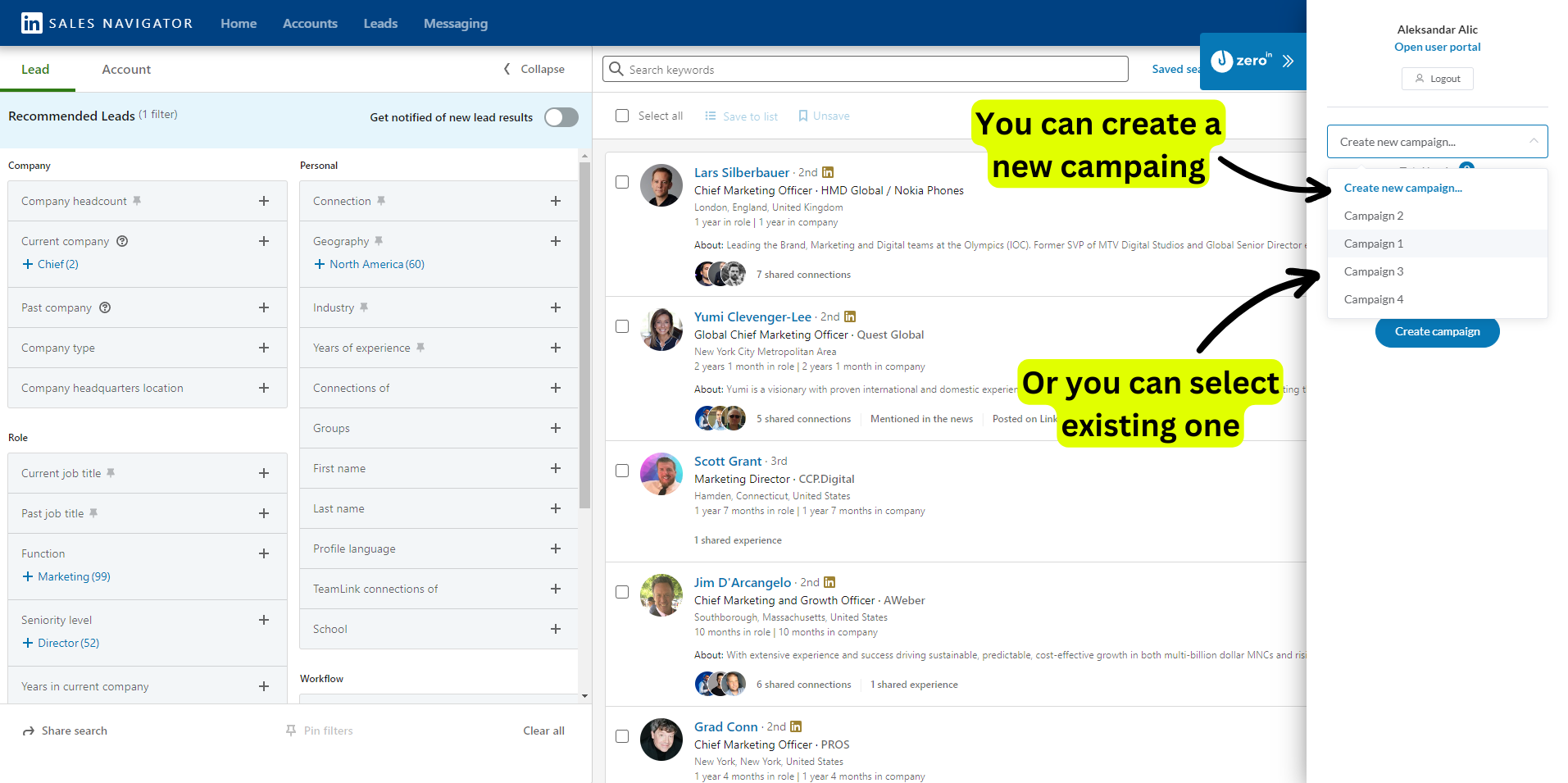 This is where your lead's data will be collected and stored.
Step 6: Set the Parameters
Now, you're at the helm of the extraction process.
Specify the number of search result pages you want ZeroIn to export / extract data from.
The default starting search page is the one currently in view.
Once you've set your parameters, hit the 'Fetch' button and let ZeroIn do its thing.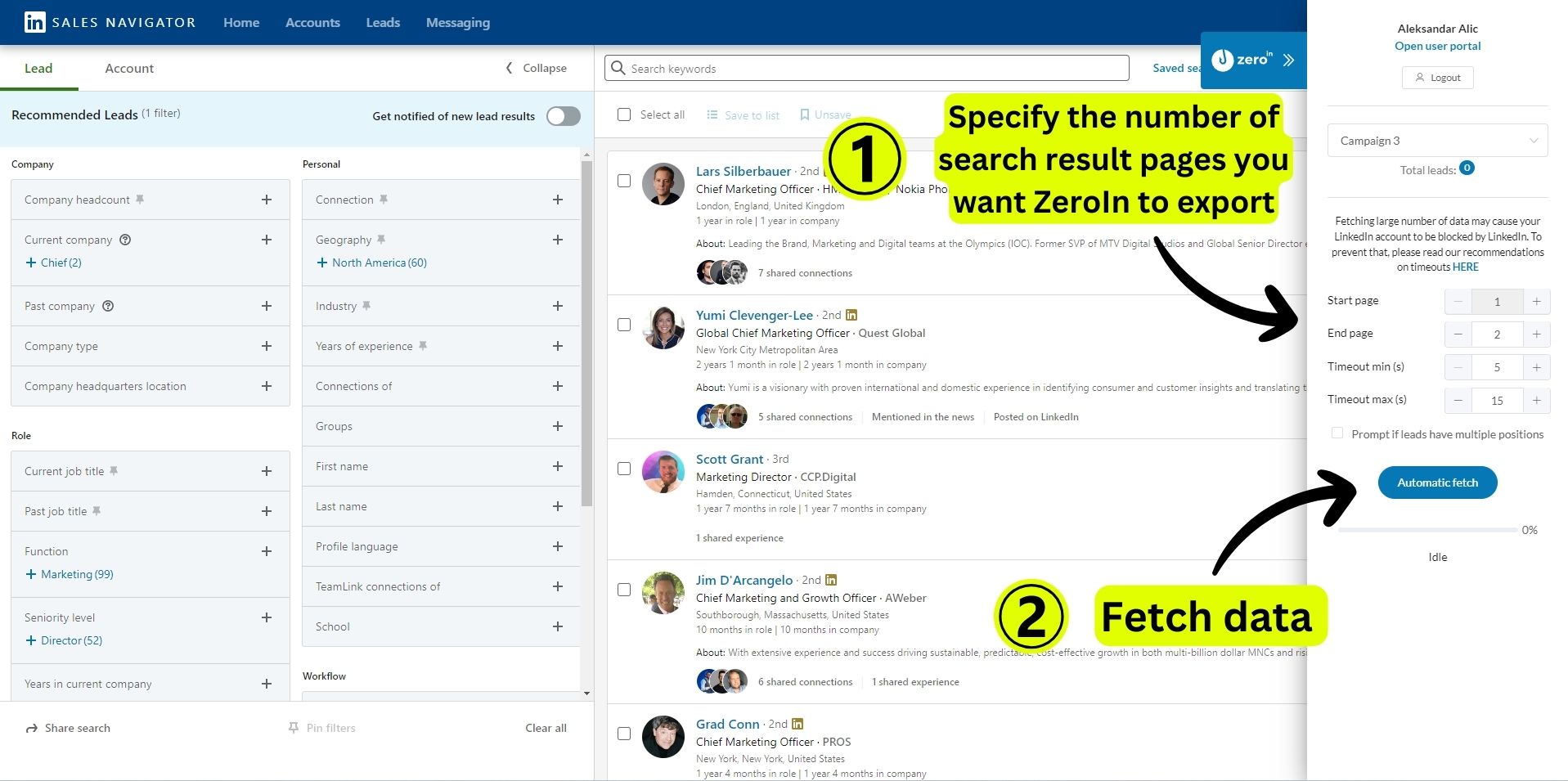 Step 7: Return to ZeroIn
Once ZeroIn wraps up the data collection process, it's time to revisit your ZeroIn portal.
Find the campaign you've created or selected for your leads and click on it.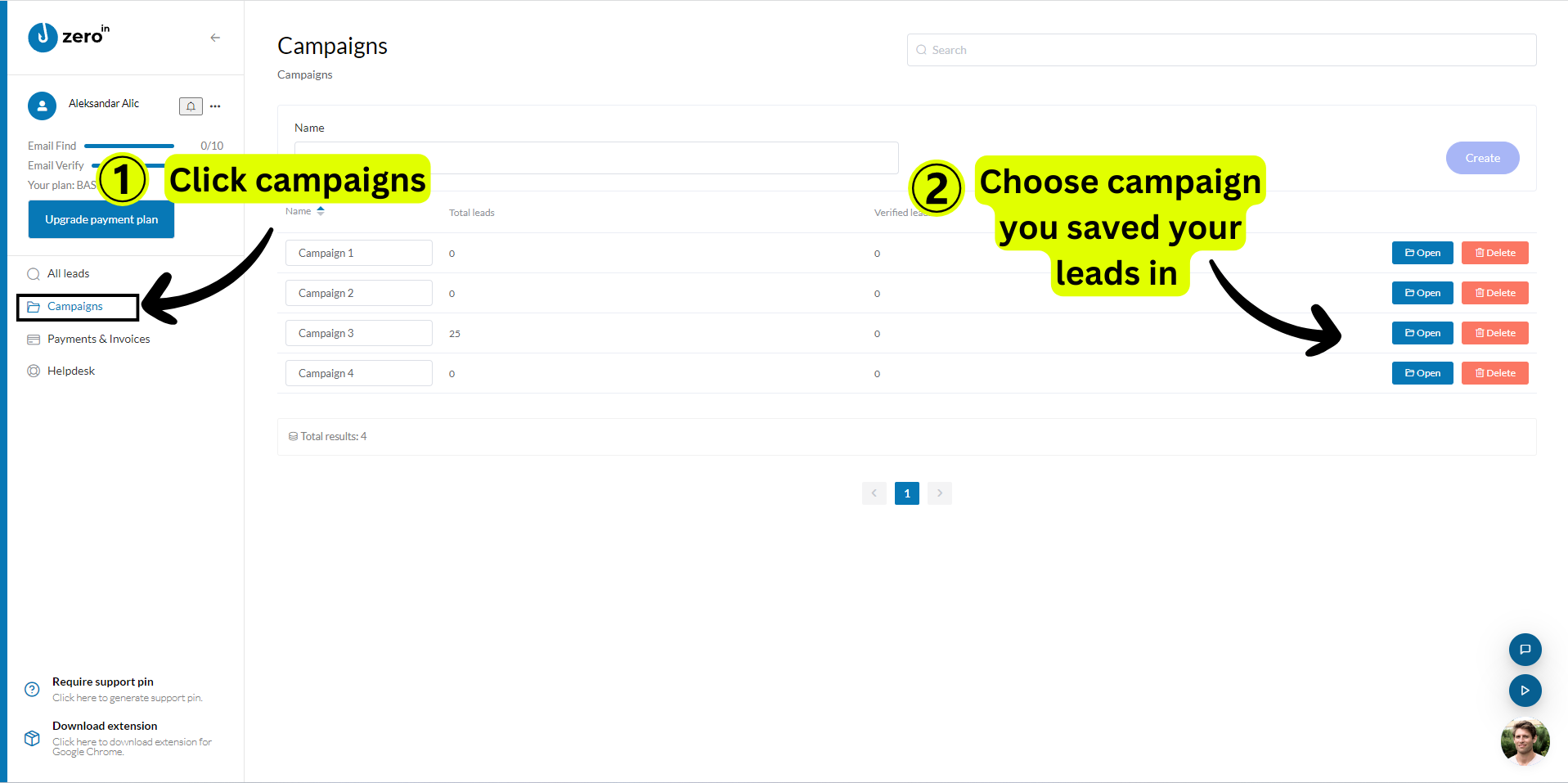 Step 8: Get verified emails
Within your campaign, select all leads then click "Selected" and from the dropdown choose "Add to email find queue."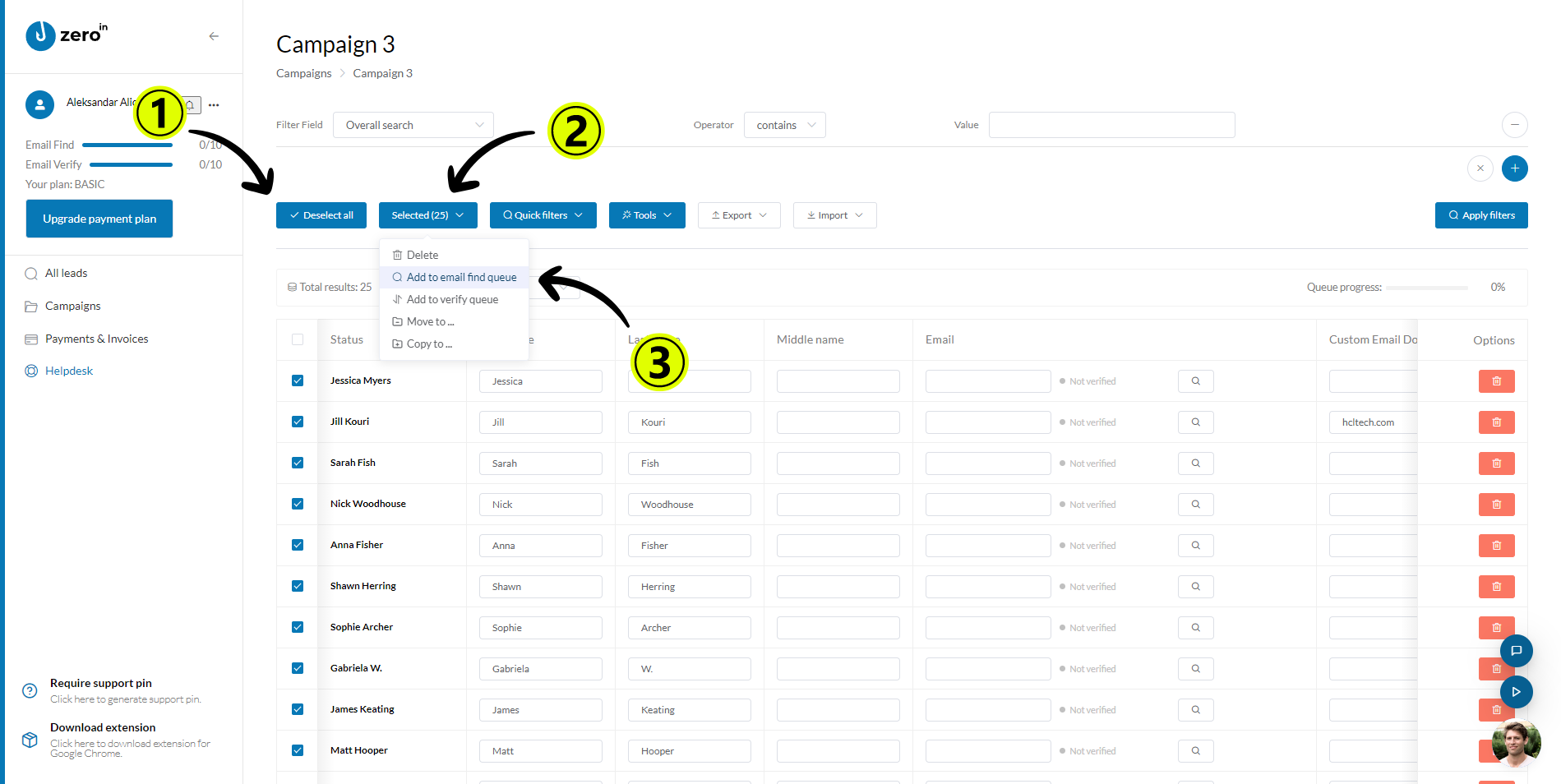 ZeroIn will then dive into the task of finding each lead's email address.
Once completed, you'll be rewarded with a list of verified email addresses for your outreach efforts.
That's it!
Eight straightforward steps to break down the wall between you and your ideal prospects' email addresses.
With ZeroIn, you can bridge the gap, allowing you to connect directly and effectively with your LinkedIn Sales Navigator leads.
Why Choose ZeroIn for your LinkedIn Sales Navigator Lead Generation?
In a world teeming with data-gathering platforms, why should ZeroIn be your go-to for lead generation on LinkedIn Sales Navigator in 2023?
Here are some compelling reasons:
Compelling Data
Unlike many other platforms that offer up unreliable, outdated, or irrelevant data, ZeroIn provides clean, verified, and actionable data for your cold email outreach and marketing campaigns.
You can gather comprehensive data directly from LinkedIn, enriched with business emails verified in real-time.
GDPR Aligned
With growing concerns around data privacy and protection, it's crucial to ensure your data-gathering practices are aligned with global standards.
ZeroIn's operations align seamlessly with the General Data Protection Regulation (GDPR), assuring users that the data collected is ethical and compliant with privacy laws.
High Accuracy Rate
In the world of data, accuracy is king. ZeroIn boasts a 98% accuracy rate, meaning the data you receive is dependable, allowing you to execute your outreach and marketing campaigns confidently.
Extensive Data Points
ZeroIn provides an impressive 26 data points on leads and companies, giving you a multi-dimensional view of your prospects. This breadth of data enables a more targeted and personalized approach to your prospect engagement and nurturing efforts.
Large Database
With ZeroIn, you have access to an expansive database of over 200 million contacts.
This vast pool increases the chances of finding your ideal leads, equipping you with the necessary tools to scale your outreach and achieve your sales goals.
ZeroIn's winning combination of accuracy, comprehensiveness, GDPR alignment, and a massive database set it apart from the crowd.
It's more than just a tool – it's an ally in your LinkedIn Sales Navigator prospect generation efforts.
Conclusion
Finding the perfect prospect can feel like striking gold – until you realize you can't easily get in touch with them.
The email, that crucial bridge connecting you to your prospect, seems out of reach.
But, as we've explored, it doesn't have to be.
LinkedIn Sales Navigator, combined with the power of ZeroIn, can be a potent tool in your B2B lead-generation strategy.
With ZeroIn, the frustration of not being able to reach your LinkedIn Sales Navigator leads becomes a thing of the past.
Its clean, accurate, GDPR-aligned data, extensive data points, and broad database turn the daunting task of prospecting into a streamlined process.
The journey from discovering a prospect to initiating that golden conversation is not a straight line.
There are potential roadblocks, yes, but as we've shown, there are also workarounds.
With the right tools and strategies, you can unlock doors that leads directly to your prospects' inboxes.
So, next time you find yourself staring at a LinkedIn Sales Navigator lead, wondering how to find their email, remember this guide.
Remember that there's a way to break down the barriers and connect directly with your ideal prospects.
Remember ZeroIn.
H2: What is ZeroIn?
ZeroIn is a powerful tool designed to maximize the efficiency of your B2B marketing and outreach efforts.
It acts as a business email finder and data export tool for LinkedIn, enabling you to locate and verify email addresses with ease.
But it doesn't stop at that; ZeroIn also enriches your data, providing 26 data points on leads and companies to arm your outreach with precision.
With a database of 200 million contacts and a commitment to GDPR compliance, ZeroIn is the ultimate companion to your LinkedIn Sales Navigator experience.
H2: How can ZeroIn help your business?
ZeroIn empowers your business by providing access to verified emails and key insights about your LinkedIn Sales Navigator leads. With an impressive 98% accuracy rate, it eradicates the challenges and frustrations associated with finding and verifying email addresses.
Beyond that, it offers scalability, ensuring you're not tied down to the manual process of searching and verifying emails one by one. Whether you're reaching out to a few leads or thousands, ZeroIn ensures the process is smooth, effective, and efficient.
Moreover, with its GDPR compliance, ZeroIn provides peace of mind by ensuring your data handling practices are aligned with legal standards.
In a nutshell, ZeroIn paves the way for your business to harness LinkedIn Sales Navigator's full potential, optimizing your prospecting efforts and ensuring your outreach strategies are as effective as they can be.
H2: Create a Free Account and Get 25 credits!
FAQs
How Does LinkedIn Sales Navigator work?
LinkedIn Sales Navigator is a premium LinkedIn service designed for efficient lead discovery.
It utilizes an advanced algorithm to tap into LinkedIn's extensive database, enabling you to find and track prospects that align perfectly with your niche.
However, it does not readily provide access to prospects' email addresses.
What Challenges Exist for finding Emails through LinkedIn Sales Navigator?
There are several challenges in finding emails through LinkedIn Sales Navigator.
Firstly, the manual extraction of emails is time-consuming and not scalable.
Secondly, you can't access email addresses without a 1st-degree connection or from profiles with private settings.
Finally, there's the issue of unverified emails which can lead to bounces and potentially damage your sender's reputation.
Where to Find Emails in LinkedIn Sales Navigator?
There are a few places where you might find an email address on a LinkedIn profile.
One is in the contact information section of a user's profile, though this is often hidden for anyone who isn't a 1st-degree connection.
Other possible locations include the about section or even within a customized banner image, although these are less common.
How to Get Verified Email Addresses using ZeroIn?
Using ZeroIn, you first create an account and install the browser extension.
After logging into Sales Navigator and selecting your leads, activate the ZeroIn plugin and set extraction parameters.
The data collected will be visible in your ZeroIn portal, where you can select the leads and add them to the email find queue.
ZeroIn then locates and verifies each lead's email address for you.
Average score -
No votes yet