Contrary to what it may have seemed like at first, the rise of social media and the direction it has taken has only helped establish email as the most effective sales channel, and this is especially true for B2B cold emails.
Email has been proven to be the most proficient channel for customer acquisition by a McKinsey study that found it nearly 40x more effective than social media.
Having that in mind, it makes sense that it has also become increasingly difficult to find business email addresses of your sales targets. And the higher someone is in the company hierarchy, the more difficult it is to find their email address.
However, there are a number of strategies that you can employ to find the email address of your target — and yes, even the CEOs.
We have prepared a step-by-step guide that will make you the master
Step 1: Start by Googling
Any research starts with Google and the same is true for finding email addresses.
If, at any point in time, an email address of your target (or another employee of the company) was published online, it is likely that Google has indexed it and that it will come up in the search.
That being said, you have to know the right way to search for this. We've prepared some queries that you should try.
[first and last name name] [company] email
[first and last name] contact
Site:[domainname.com] [first and last name] email
Site:[domainname.com] [first and last name] contact
And don't forget about social media: business people will frequently have their email addresses listed in their Twitter bios (especially journalists) or via the Email/Contact option on Instagram.
Step 2: Find an email pattern online
If you can't find the email address of your specific target on Google, try with any other email address in the company. This is so that you can identify the email pattern the company uses.
And what's an email pattern? You likely have one in your company, too!
Businesses will often select and stick with email patterns when creating addresses for their employees. As an example, your email pattern could be firstname@domain.com, firstname.lastname@domain.com, lastname@domain.com, etc.
So let's try to find any email address from the target company, identify the patterns found, and then make educated guesses on what the email of our specific target may be (and don't worry, we'll verify these guesses in the next step).
Here's a great Google search query that you should try:
Mail to: "@[domainname.com]"
[Company name| Press Release
[Company name] About
[Company name] Contact
Site:[domainname.com] @[domainname.com]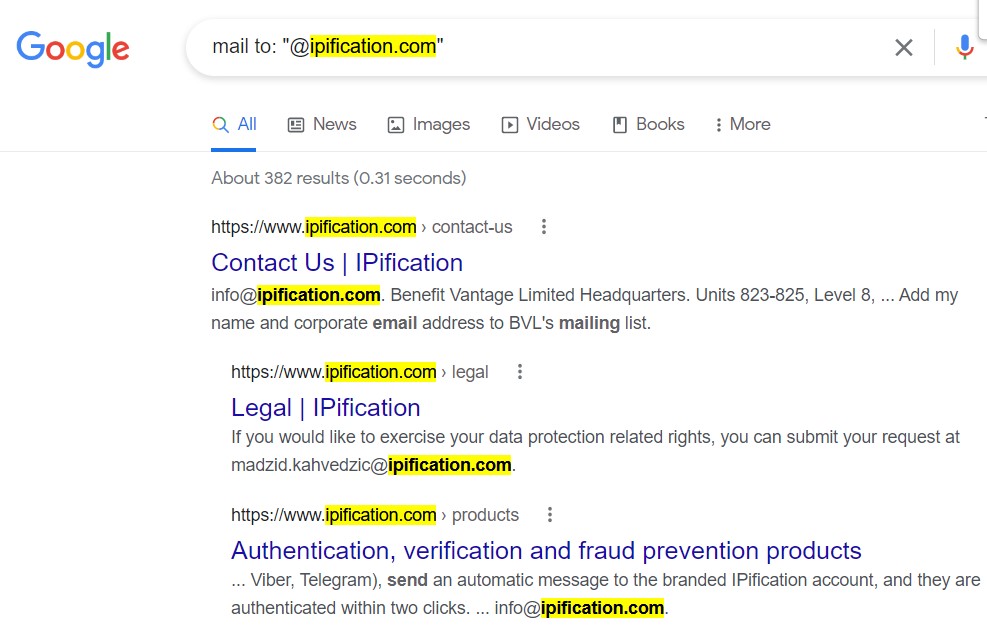 Example: We tried to find the email address for IPification's CEO and started to look for email patterns on Google. Lower in the first page results, we found an email address from the press release that led us to believe this company's email pattern was [firstname]@ipification.com
In the 21st century, you're sure to find at least a few email addresses in this way. Now, use the patterns you have found to write up a list of possible email address combinations for your specific target. And then let's verify!
Step 3: Use an email verifier to check your guesses
Our email finder tool ZeroIn lets you verify email addresses by cross-comparing the information with our database. You simply plug in the email address in the verifier tool, and boom: it is revealed whether the email exists or not.
Plug in your email guesses, verify the right one and you're good to go.

Example: Using the pattern from above, we have tried to verify our guess in ZeroIn. Unfortunately, it turned out that this email doesn't exist. Note that this isn't such a surprise since the C-Suite frequently uses email addresses that don't fit the usual pattern.
If you can't find an email address pattern for a specific domain (or if your guesses weren't verified), you may be surprised that Gmail could actually be your secret weapon… Here's how.
Step 1: Use a permutator tool to find all possible email patterns
In cases when you can't find any email addresses from a business online and can't come up with email patterns, use an email permutator tool.
Simply google email permutator, type in the first and last name of your target, the domain name, hit permutate and the tool will generate a number of possible email patterns.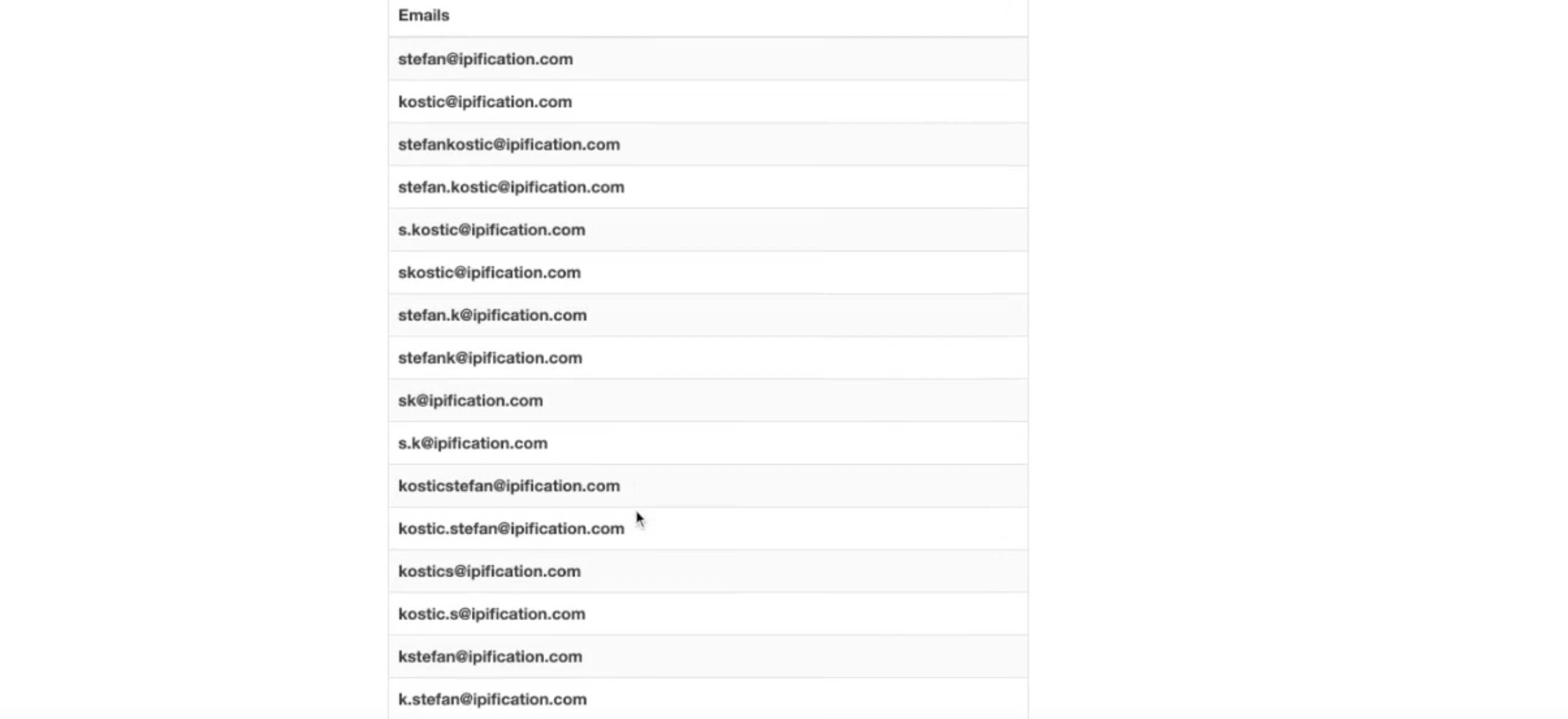 Example: After putting in the CEO's first and last name and the domain name, the permutator tool gave us a list of possible email combinations.
Copy them, and then let's head to Gmail to check these email addresses.
Step 2: Check the email address using Gmail
Start writing a new email, and paste all the permuted email addresses in the "to" field.
Hover over these email addresses and try to find any irregularities. Do any of them have profile pictures? Any other contact information?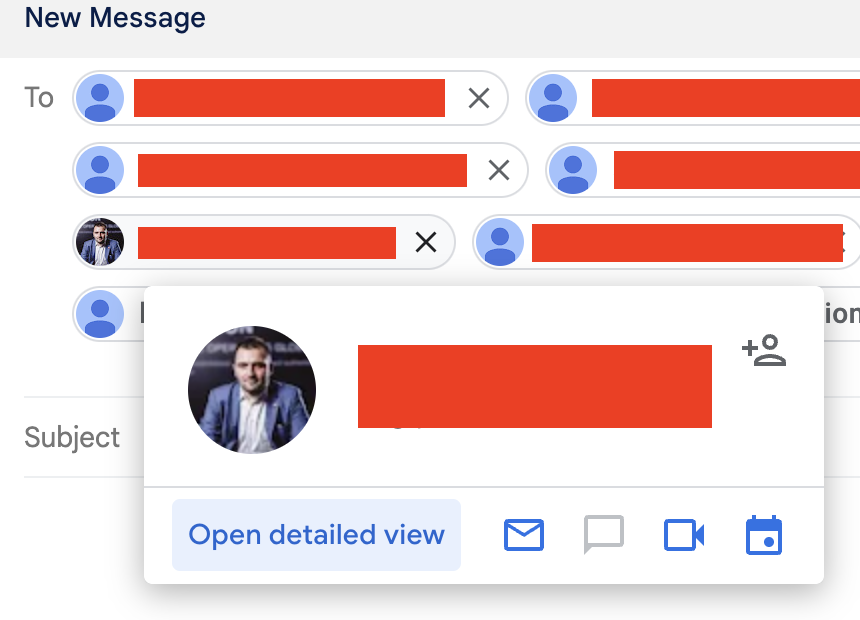 Example: We have found that one of the email contact cards displayed a profile image in Gmail. As such, it was highly likely this was the email address the CEO was using. Now, all that was left was to verify it in ZeroIn.
Identify the ones that stand out, cut down on the number of emails on the list, and take the remainder into ZeroIn to verify them.
Step 3: Verify the email address in ZeroIn
Open ZeroIn, navigate to the verifier, input the email addresses and verify their validity.

All of above in one simple step
In addition to the email verifier, ZeroIn also offers a single email finder that lets you discover verified business emails, phone numbers, and company profiles in a single click. Especially if you already know the person's name, last name and the company website.
Check out how it's done in this video here
Get Zeroin for as much as Linekdin monthly Sales Navigator!
Take advantage of the limited ZeroIn lifetime deal: pay once and use forever
How does it work?
Register, install the Chrome plugin and head to the LinkedIn profile of your target. We've got it from there.
ZeroIn works on both Free and Sales Navigator LinkedIn profiles and matches your people's search results and/or single profile views with a growing database to deliver business emails of the person, as well as other 20+ data points on the contacts and the company level.
Average score -
No votes yet