If you're looking to create a targeted email list, you want to make sure the email addresses you're sending to are accurate. Otherwise, you may end up with a high bounce rate, and not only is that a nuisance on its own, but it can also have a serious effect on your reputation as a sender!
To prevent that from happening, you need a highly accurate email checker — and ZeroIn finds and verifies business emails with 98% accuracy!
Now, there's another thing to pay attention to. You don't need personal emails when it comes to B2B sales outreach and creating targeted email lists, do you? You'll probably end up in the trash or get blocked — your prospects won't appreciate you mixing their business and personal lives! That's why ZeroIn makes sure to give you not just any emails, but verified business emails.
Now that we've got that covered, let's go straight to building high-quality targeted email lists! Here are four easy steps to make your B2B sales outreach campaign a total success.
Step 1: Define Your ICP and BP
We all know that you can't sell to just anyone. That's why having a good ideal customer profile (ICP) and buyer persona (BP) is a crucial first step. For the purpose of this article, we'll define these concepts in very basic terms by using the following example.
Let's say our ICP is someone from the IT industry, who works in the marketing department, and whose company is located in the US. The decision-makers — our BP — would be the CEO, CMO, VP, and Director of Marketing.
With that in mind, let's start finding some leads. Keep in mind that up until Step 4, no ZeroIn credits will be spent!
Step 2: Go on LinkedIn and Start Your Search
The first thing you need to do is search for people on LinkedIn. The first batch of results will likely have nothing to do with your ICP and BP as they will mostly be your connections, so you need to narrow it down by using the "All Filters" option.
This is where you can set any rule that applies to your desired leads. For the purpose of the article, and following our ICP & BP, we've decided to set these filters as follows:
Location (United States)
Profile Language (English)
Industry (Information Technology and Services), and
Title (Marketing).
There's a few things to pay attention to here:
– Choosing people based on their current or previous company is another helpful filter.
– When choosing the title, you can go wide and simply type in the branch, or make it more specific — for example, Head of Marketing — in which case you'll need to repeat this step for all different job titles you defined for your BP.
Step 3: Use ZeroIn to Discover Their Data.
Once you've found who you were looking for, put the leads in your chosen campaign or make a brand new one on the spot. Remember, ZeroIn allows you to gather and match as many contacts as you like and it still won't cost you a single credit.
You'll also be able to see a confirmation that a certain contact has been added to the campaign.
Once your contacts are imported into the campaign, you can see up to 26 data points per contact, including job titles (very useful if you went with the wide Marketing filter when it comes to the title). Based on all these fields, you'll be able to see who fits your BP and who doesn't.
As for those who don't, you can either delete them from the campaign or move them to a separate one — you never know when they might come in handy!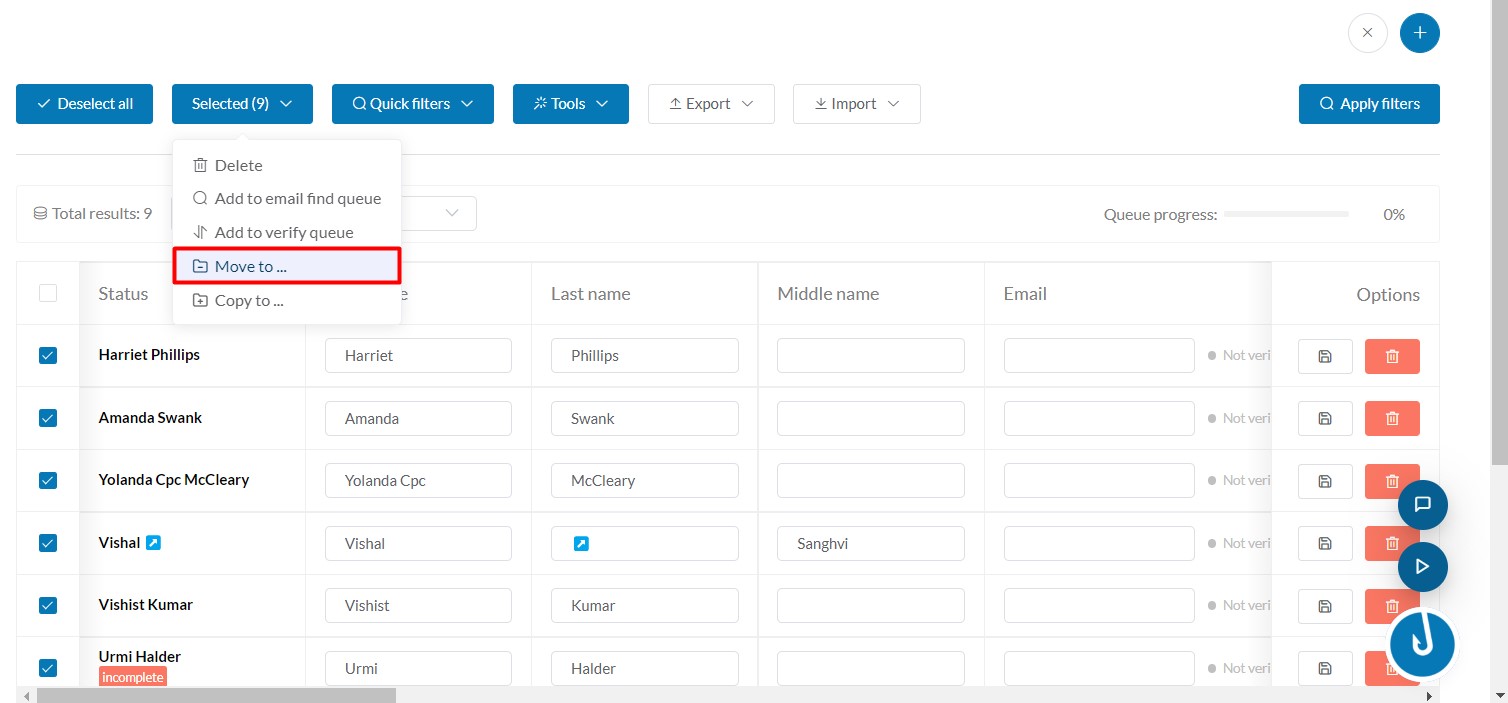 You can repeat Steps 2 and 3 however many times you want until you're happy with the number of leads in the campaign.
Step 4: Get Their Emails
This is where credits start to count, so you may want to double-check that the leads you opted for fit the buyer persona you've defined. Once you're certain they do, it's time to find their business emails!
ZeroIn has a 98% accuracy rate so we can guarantee that you get the best possible results out there. If ZeroIn doesn't show an email for a certain lead, it means we simply cannot guarantee its accuracy. We're all about quality ahead of quantity!
Make sure to find these email addresses in bulk as you'll probably have quite a few leads there at the end of this process! You can do this by choosing the "Select all" option, and then under "Selected" go for "Add to email find queue."

Once you have the emails, you can choose the format in which to export them (CSV, XLSX, Pipedrive format, or directly to Google Sheets). We advise you to choose either CSV or XLSX, as they are easy to use with various email outreach tools such as Reply.io (which we heartily recommend).
And there you have it — your targeted email list for B2B sales outreach is ready! All that's left to do now is write some nice threads and start sending those emails.
Start creating targeted email lists with ZeroIn today!
Average score -
No votes yet