To help you navigate the options, we've compiled a list of the 5 best email list vendors for 2023, based on factors such as data quality, pricing, targeting options, and customer support.
What's an email list vendor?
An email list vendor is a company that sells access to email address databases to other businesses.
Email list vendors typically offer a wide range of list options, including demographic information like age, gender, location, and interests, as well as more specific information like name, last name, job title, company size, business emails, and industry.
The cost of these lists can vary depending on the quality and quantity of the data, as well as the vendor's reputation and level of service.
Email list vendor advantages
👍 Speed: Building an email list from scratch can be a time-consuming process, particularly for businesses that are just starting out.
Using an email list vendor can allow you to quickly acquire a large number of email addresses, which can be particularly useful if you have a tight deadline coming up and you want to get the ball rolling.
👍 Targeting: Email list vendors typically offer a wide range of targeting options, which can allow you to reach specific segments of your target audience more effectively.
For example, you may be able to purchase a list of email addresses for individuals who have expressed interest in your industry or product category. Or a list of business emails and other contact details of relevant people from a Healthcare industry.
👍 Cost-effectiveness: Depending on the vendor and the size of the list you purchase, using an email list vendor can be a cost-effective way to acquire email addresses.
If you opt to use one of the email vendor finding tools, for which you'll usually pay a subscription, you can find it even more cost-effective. Give a man fish, feed him for one day. But teach him to fish, and you'll feed him for life!
👍 Scalability and flexibility: As your business grows, you may need to scale up your email marketing efforts to reach a larger audience. Using an email list vendor can allow you to quickly and easily acquire the additional email addresses you need to support this growth.
Email list vendor disadvantages
Depending on the email list vendor you choose, you may run into some disadvantages.
👎 Quality concerns: There is no guarantee that the email addresses on a purchased list are accurate or up-to-date, and many emails may be invalid. This would not only make them a waste of money, but also may put your email at the risk of getting blacklisted.
👎 Deliverability issues: Email service providers often have strict rules around unsolicited email, and using a purchased list can increase the likelihood that your messages will be marked as spam or blocked entirely.
👎 Legal risks: Depending on where you are located, there may be laws and regulations governing the use of purchased email lists, and violating these laws can result in fines or other legal consequences.
Not to worry, though, because we've prepared a list of top five email list vendors that shouldn't fall for the traps we've mentioned above.
1) ZeroIn

ZeroIn is a relatively new email list finding tool that also comes equipped with a lightweight CRM, allowing you to easily store and manage prospect data that you find, such as business emails, phone numbers and over 20 other contact and company-related data points.
This tool helps you create lists based on your Free or Sales Navigator LinkedIn searches. After installing the free ZeroIn browser extension, you can set your search filters, and ZeroIn utilizes its continuously growing database to match your search results, offering a comprehensive view of your prospects.
Moreover, it grants access to up to 26 different pieces of information related to people on LinkedIn, including verified business emails, rather than just providing basic information like phone numbers and email addresses.
With ZeroIn's unique 5-point verification system, you can trust that the email addresses you come across are both accurate and valid.
Finally, you can also upload existing email lists to the User Portal for re-verification, and export your leads in various formats such as CSV, XLS, and Google Drive. Plus, with the "single email verification" feature, you can easily check if a specific email is still valid.
Notable features:
👉 Email verifier
👉 Lightweight CRM
👉 CRM enrichment
👉 Phone number finder
Pricing:
👉 $99 lifetime deal, pay once and use forever
👉 Variety of other paid plans
User reviews:
Users have praised the high level of email address accuracy, as well as customer service and responsiveness.
---
The ZeroIn $99 Lifetime Deal is active for a little while longer.
Pay once and use forever! Claim the deal today!
---
2) Lusha

Lusha is one of the better known email list vendors out there with a long list of both small and large businesses using it. It offers a user-friendly interface, and a range of features including email verification and CRM enrichment.
After installing the Lusha browser extension, you can use it on LinkedIn profiles of your prospects to get their email addresses. Once you have found and verified the email address, you are free to export the data to a CSV file or integrate it with your CRM software. In addition to the email address, Lusha can also help you find prospects' phone numbers.
Having said that, note that Lusha is on the expensive side, especially for SMBs. If you have budget constraints, you may be better off with some other email list vendor on this list.
Also, if you're looking for scale, this might not be the best option.
Notable features:
👉 Email verifier
👉 CRM enrichment
👉 Phone number finder
👉 7-step data verification system
Pricing:
👉 Monthly plans starting at $39/month (40 credits)
👉 Annual plans starting at $348/year (480 credits)
User reviews:
Users have praised the ease of use and high-quality data, although some have commented that the pricing can be steep for smaller businesses.
3) Snov.io

Snov.io is one of the more affordable options on this list that lets you find your prospect's email addresses, verify the ones you have, and even comes with a lightweight CRM and drip email campaign tool. The good news is, they even have a free plan although limited to 50 credits per month.
Similarly to the others, you'll also be using the Lusha browser extension to identify email addresses. Additionally, you can use their web app to perform domain searches.
Keep in mind that Snov.io may come with a data quality trade off, but it's somewhat expected considering its affordability when compared to tools such as Lusha.
Notable features:
👉 Email verifier
👉 Bulk email finding
👉 Drip campaign tool
👉 Sales CRM
👉 Integrations via Zapier
Pricing:
👉 Free plan with 50 credits/month
👉 Paid plan with 1000 monthly credits for $39/month
User reviews:
Users have praised the affordability and ease of use, although some have commented that the data quality can be variable.
4) Cognism

Cognism is one of the most famous tools in the email list vendor business. It comes with a comprehensive set of tools and services such as an email verifier, a CRM, a CRM enrichment service, buyer intent data, and other sales automation tools.
One of its most competitive features include an email outreach tool and various follow-up sequences that help you save time on manual tasks. Finally, its list of integration is fairly long and includes a range of CRM software such as Salesforce, Hubspot and Pipredrive.
However, because it offers so many tools, keep in mind that the pricing can be on the steeper side, especially for SMBs.
Notable features:
👉 Email verifier
👉 CRM
👉 CRM enrichment
👉 Buyer intent data
👉 Variety of integrations
Pricing:
👉 Starter plan at $1500/year for 1000 credits
👉 Custom plans available
User reviews:
Users have praised the comprehensive feature set and high-quality data, although some have commented that the pricing can be steep for smaller businesses.
5) GetProspect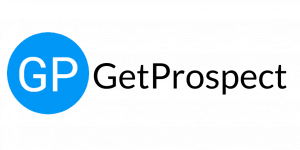 Another tool on this email vendor list praised for its low-cost plans, GetProspect provides the usual tools for finding prospect email addresses such as a browser extension, email verifier, and domain search.
Another one of its great features includes email tracking where you can check who has opened your emails, clicked on links, and responded to your messages, to ensure you can always react in time and close sales.
It integrates with a variety of CRM software including Salesforce, HubSpot, and Pipedrive. However, as is the case with most low-cost options, the data quality isn't as high as it could be.
Notable features:
👉 Email verifier
👉 Sales CRM
👉 Email outreach tool
Pricing:
👉 Free plan with 100 credits/month
👉 Basic paid plan starts at 1000 monthly credits at $49/month
User reviews:
Users have praised the ease of use and affordability, although some have commented that the data quality can be variable.
---
And there you have it. It's important to note that while these email list vendors are some of the best options available, it's still important to carefully evaluate each vendor based on your specific needs and goals.
Factors such as pricing, ease of use, and user reviews can be helpful in making a decision, but ultimately it's important to choose a vendor that can provide high-quality, accurate data that meets your specific requirements.
Average score -
No votes yet